Getting your logo designed can be tricky to navigate, so here are some tips to help you navigate the process!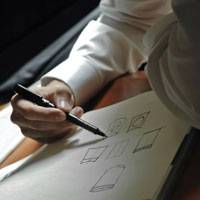 1. Branding process
Your logo is just one element of your whole branding. Therefore any discussion with a graphic designer should include questions about any existing branding, or some in depth questions about your business or organisation (such as your target market, the products/services your offer, and so on). This helps the designer to get a good impression so they can design a logo that is appropriate.
Most graphic designers will include a number of concepts in the price of designing a logo. You should ensure that any ideas you have will be considered, but you should also be open to allowing the graphic designer to come up with concepts, based on their impression of your business. A good designer is likely to come up with some ideas that you never would have thought of!
2. What program is it being designed in?
Logos should always be designed in a program such as Adobe Illustrator, or a simliar program that can create vector images (this blog article explains it really well). If anyone tells you they use Photoshop to design logos, do not use them! Your logo will be limited to the size of the original image - if you need to make it larger, it will be pixelated. Vector programs like Illustrator also give the designer much more scope with effects and endless possiblities for design.
3. What final file formats should I be given?
Some graphic designers choose to provide only 'raster image' files (e.g. JPG, GIF, etc) and then charge you a (much higher) additional fee for an 'EPS' (or vector) file. The reasons for doing this can vary, but generally it is a way of ensuring that you will continue to utilise their services (because they 'own' your original logo files).
At Shel Design, we choose to provide our clients with an 'EPS' file within the standard cost of designing any logo (as welll as JPG and PNG), as we know how important that file is for your business or organisation. If you need to work with signwriters, uniform companies and other promotional companies, an EPS file is essential. It can be enlarged to ANY size, it can be manipulated to work in reverse colours (e.g. if you need colours varied when the logo is placed on a dark background) and it has a transparent background (very important!). Plus there are other 'design advantages' that I won't bore you with, but that are also important too!
And we want our clients to come back to us for future jobs becuase they love our work, not because they are beholden to us!
4. Check portfolios
It is always a good idea to look at other logos a graphic designer has created (most graphic designers have a website with a portfolio - if not, ask for some samples to be sent via email or view them in person). See if you think the quality appears to be good and the variety wide.
If you are ready to have your logo designed by Shel Design, contact us for a quote!