To kick off the new year, I am focusing on home based businesses: because I know there are many of you out there!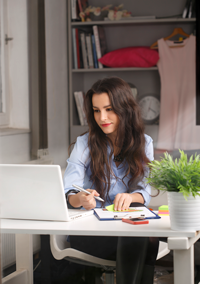 Most of us are aware of the pros and cons of working from home. And if you have been operating for any length of time, you will know how much hard work it is too. So here are some tips that will help you to maximise the positives:
• Take regular breaks. This can be tricky at home because it can be easy to be distracted by the home environment. So make sure your breaks involve physical exercise or even just getting outside to eat lunch. And if you do want to undertake 'home' tasks, make sure you put a time limit on them so they don't eat into your work time.
• Create designated work times. These times should also be communicated to your family and friends so that you can maintain uninterrupted work wherever possible. Many home based business owners find that their friends and family don't take their work 'seriously' and think that all manner of activities and tasks unrelated to work can be included in your work day. Of course flexibility is a great advantage to working for yourself from home, but if your day is full of unplanned interruptions, your productivity will decline.
• Interact with others. A large proportion of successful home based business owners lean toward the introverted end of the personality spectrum. This means that they work well on their own and don't always need to interact with other people. But this isn't necessarily a good thing! At some point, we all need to talk to and relate with others who are in similar environments. So if you aren't already doing this, make networking a new year's goal!
---
Michelle Grice writes a weekly column for business women in The Western Weekender