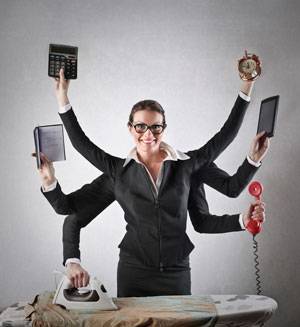 Are you a multitasker? Have you deluded yourself into believing that it is an efficient way to work? Multitasking has been proven to be an ineffective way to operate, despite the short term benefits you might appear to be receiving.
It may appear that doing two (or more) things at once is a good use of time – doing just one thing can seem almost frivolous in our fast paced society! But according to research, "Each time we move from [one task to another] … there is a stop/start process that goes on in the brain … rather than saving time, it costs time … it's less efficient, we make more mistakes, and over time it can be energy sapping." (www.psychologytoday.com).
Alternatively, doing things in batches saves the most time: send your emails all at once, write and schedule your social media posts at the same time. Because each task requires a specific mindset, once you are in that 'space' it is easier to stay there and get the task finished.
Doing things in batches also reduces the risk of errors. By multitasking, you may forget an important element during the time you switched tasks, or you can overwhelm your brain so that it isn't thinking as clearly as it would when focused on one task.
Physically, multitasking can be also be bad for your health. In a research project focusing on employees who had continual access to work emails, it was found that they stayed in a constant state of 'high alert' and had higher heart rates. Continually interrupting tasks or being distracted can also affect short term memory.
And this last reason not to multitask is a big motivator for me: it can reduce our ability to think creatively. With so much going on in our heads when we multitask, we are constantly using up our 'working memory' (or brain storage), making it much harder to be spontaneous and dream.
So give your head and body a break! Reduce, or even eliminate, multitasking and start seeing the benefits.
---
Michelle Grice writes a weekly column for business women in The Western Weekender